I was just about to exit Wildrose Canyon back in 1989.
It was during a loop route of some 80 miles with 10,500 feet of net climbing on a racing bicycle from Death Valley to the Panamint Valley via Emigrant Pass.
Just 10 minutes before when I took a break at a roadside picnic table midway through the canyon, a pair of wild burros unnerved me as they aggressively moved toward me prompting me to hop on top of the table.
After staring me down for a minute or so they sauntered away and up the side of the canyon,.
I figured I had "the story" of the trip to share when I returned home to Lincoln.
I was wrong.
As I descended to just about the canyon entrance, there was suddenly a loud rumble. Then — perhaps 400 feet from where I was riding, if that — the underside of a Navy jet fighter zoomed by.
I saw it for only a brief few seconds given its approach and departure were still blocked by sharp rises in the canyon wall near its mouth.
The burros made me a tad anxious. The jet fighter startled me to the point that to this day I remember how it felt as if my heart rate had doubled.
It was my second trip to Death Valley and the first of several encounters with Navy jet fighters and other military fighter jets enroute to and from Rainbow Canyon.
On the way home that year, I drove down Panamint Valley Road toward Trona and Ridgecrest.
From behind me came another Navy jet flying a couple hundred feet off the ground. Shortly after that I noted large white number markings on the road.
The following year when I had Rob Egan and Brian McClain join me on a bicycling trip in Death Valley, I told them of the Navy jet flights.
They didn't believe me until we countered a pair when we were cycling down Panamint Valley Road heading toward the junction of Highway 190 literally in the middle of nowhere.
Since then, I've seen perhaps seven other Navy jets weaving in and out of canyons near Death Valley during close to two dozen week-long trips.
The last was when I hiked to the remote Panamint Dunes at the upper reach of Panamint Valley.
The dune field rarely gets visitors as it requires traversing a sketchy 9-mile primitive road at a snail's pace even in a high clearance vehicle and then taking a 7-mile cross-country round-trip hike to reach them.
I was alone atop a high dune soaking in the late morning silence on a late November day.
Occasionally a bird in the distance could be heard.
Then from the northwest a rumbling sound shattered the silence. A Navy jet fighter was flying below the ridge line of the Argus Mountains heading going south toward China Lake.
Portions of Death Valley fall within the R-2508 Special Use Airspace complex. It is jointly controlled by Naval Air Weapons Station China Lake, Fort Irwin, and Edwards Air Force Base.
The complex constitutes 12 percent of California's airspace.
Established in 1955, the complex is the largest single area of overland Special Use Airspace in the United States. It provides irreplaceable capabilities for weapons testing and military training.
To get an inkling of what goes on within the airspace, think of the movie "Top Gun".
Those maneuvers are real.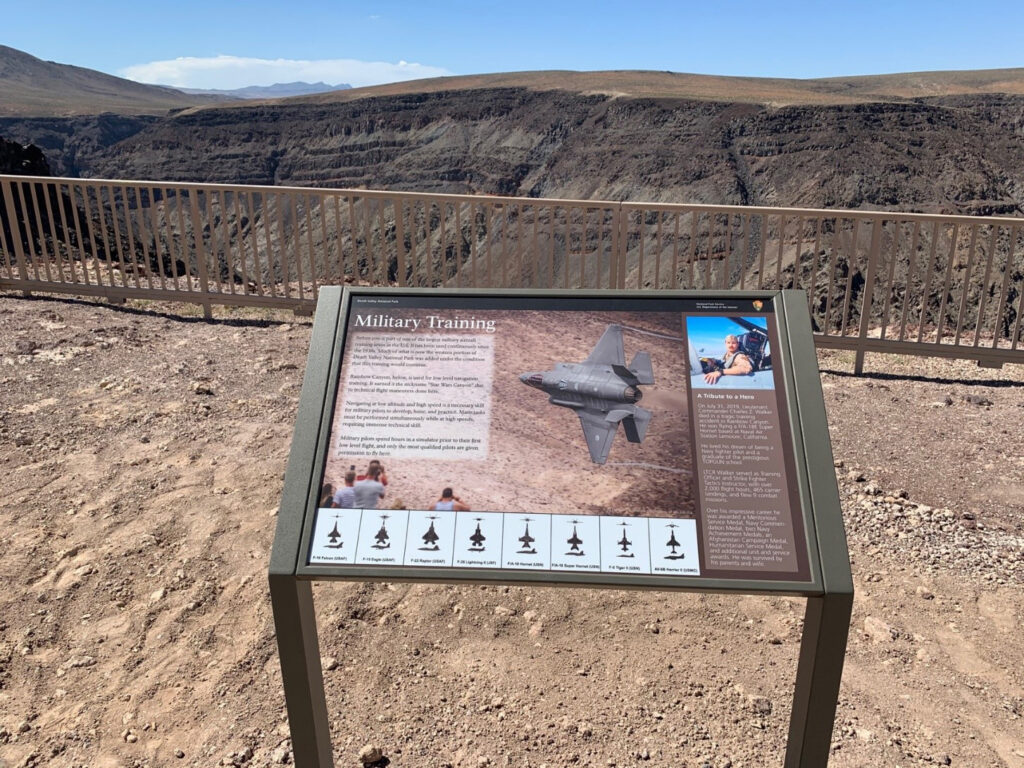 Thee R-2508 Complex provides a wide variety of terrain that supports a realistic and rigorous testing and training environment. Low-level flights are permitted as low as 200 feet above the ground while operating in the R-2508 Complex Military Operating Areas (MOAs). These MOAs allow for routine training and testing maneuvers to occur outside of the Restricted Airspace.

Operations within the R-2508 Complex typically occur between 6:30 a.m. and 10:30 p.m. However, some flight operations occur outside of these times to support unique requirements.
The places that offer the best odds of catching a fleeting glimpse of training activities in Death Valley National Park is outside of Death Valley proper. That means the Panamint Valley to the east and Saline Valley to the northeast.
The jet fighter crash in 2019 that claimed the life of a pilot and injured park visitors was in part of the Panamint Valley known as Rainbow Canyon.
It's a beautiful canyon in terms of colorful rock formation.
A cliff overhang 1,000 feet above the canyon floor is about a mile walk from the Father Crowley Point overlook off of Highway 190. The canyon floor itself requires serious rappelling skills to descend and ascend. The only other way is a long cross-country hike across the valley floor.
Do to the relatively easy access, the cliff overhang for years has been a favorite place for serious military aviation photographers.
Given they fly low in the canyon or 200 feet off the side as a photo with this story shows, there are some spectacular viewing opportunities. Jets pass by at speeds between 200 and 300 mph.
There is only one problem. Training flights do not take place on a daily basis nor is there a schedule printed for obvious reasons.
That means if you have any chance of seeing such military training flights you'll have to spend a number of days there and can still come up empty handed.
Other places I've seen low flying military fighter jets is on the plateu above Nemo Canyon in the Panamints.
Given I don't go to Death Valley for the aviation thrills but instead to get to remote peaks (or at least as far as I can go toward the summit before it becomes "iffy" for me) and canyons requiring cross-country treks with the high probability it will only be myself and the solitude for the day or days on end — I haven't ventured to Rainbow Canyon that aviation enthusiasts have nicknamed "Star Wars Canyon".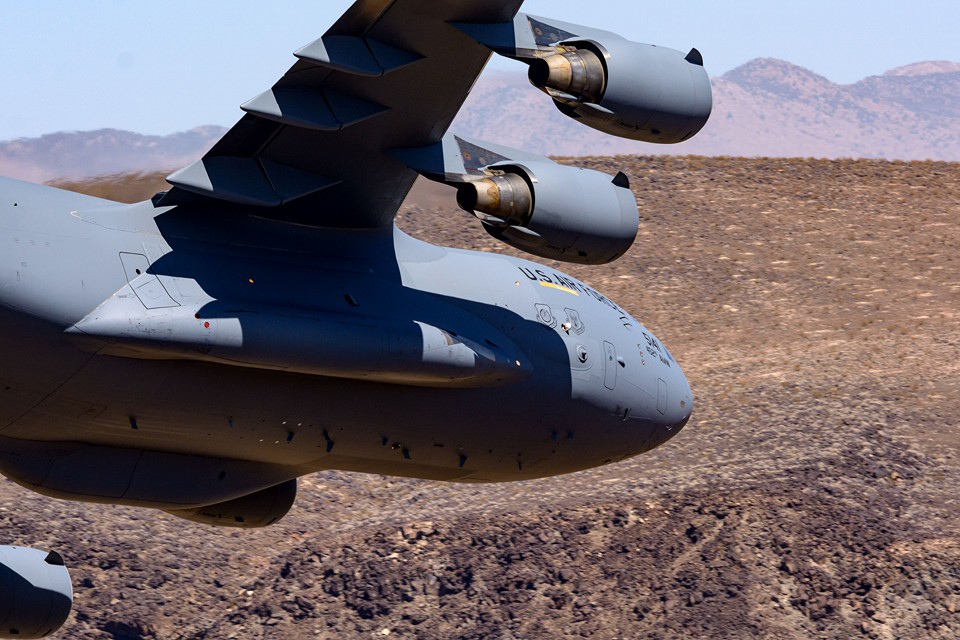 The closest base to Death Valley is China Lake in Ridgecrest.
China Lake is the Navy's largest single landholding.
Covering more than 1.1 million acres or 1,718 square miles it covers an area larger than Rhode Island.
The main site and two weapons ranges represent 38% of the Navy's worldwide land holdings.
It has 2,132 buildings and facilities, 329 miles of paved roads, and 1,801 miles of unpaved roads.
The July 5, 2019 earthquake referred to as the Trona or Ridgecrest quake that was 7.1 on the Richter scale actually had its epicenter with the boundaries of the Navy's China Lake facility.
More than 20,000 crewed and uncrewed military sorties are conducted out of China Lake each year by the military.
Based on 2018 data, there are 620 active duty military, 4,166 civilian employees and 1,734 contractors that make up China Lake's workforce.
The use of the dried lake bed as a military facility started during World War II.
Cal Tech needed a place to test and evaluate rockets.
Work done by Cal Tech at China Lake included the testing of bomb shapes dropped from B-29s.
Scientists and engineers have developed numerous rockets at China Lake including one of the most notable creations — the air-intercept missile known as a Sidewinder.
By the way, that moniker of "Star Wars Canyon" for Rainbow Canyon isn't far off the mark. Several scenes form the original Star Wars were filmed in Death Valley.