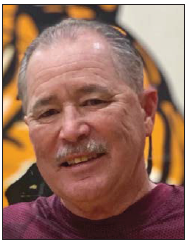 April 24, 1961 – Nov 4, 2022
Todd was born in Los Banos, California. He attended and graduated from Los Banos High School. He attended Cupertino College in Santa Cruz. Todd began his career as a mail carrier for the Los Banos Postal Service where he retired in April of 2015 serving 32 years to his community.

Todd is preceded in death by his father Roger Rolicheck and his Aunt Lil Hass. He leaves behind his daughter Cassiana Rolicheck, his son Dylan Rolicheck, his mother Nancy Rolicheck, siblings Cindy Perry, Criss Rolicheck, Lawrence "Buzz" Rolicheck, and his cuz Duke Hass along with many nieces, nephews, cousins, friends and many customers who all loved him dearly.

Todd was a committed loving husband, father, son, friend and mail carrier. He loved Nascar, Drag Racing, camping with his family in Pine Crest and family gathering. Todd was an active volunteer throughout his community. He was always a happy go lucky
guy and would do anything for anyone.

Todd will be greatly missed but always remembered and held deep in our hearts. Celebration of life for Todd Rolicheck will be held on Saturday December 17, 2022 at the DES Hall in Los Banos beginning at 12 PM.