After a two-year hiatus (due to Covid 19 restrictions), the Los Banos VFW and American Legion posts once again hosted the seventh annual Veterans parade last Saturday, Nov. 5, in downtown Los Banos organized by VFW member, Patricia McCoy.
According to VFW commander Michael Hughes and American Legion commander Alan Cotta (who led off the parade), more than 60 entrants participated in the 2022 "Honoring the U.S. Navy" parade. The Los Banos High School band followed the commanders and played the "National Anthem." A joint venture of the Pacheco and Los Banos high school Future Farmers of America carried a giant American flag.
For the first time in the parade's history, the Veterans selected Marion G. Santos as an ambassador for this year's event. 
The Color Guard (Richard Jurado, Robert Jurado, Ildo Martins, Randy Williamson, and Tom Higby) carried the American flag, VFW, and American Legion flags.
Justin Charman represented the U.S. Navy as their Reviewing officer and welcomed everyone to the Veterans parade.
Fourteen floats saluting the Navy were entered in the parade from local elementary, Jr high, and high schools in town.          
After the parade, the VFW and American Legion posts hosted all the participants for a hot dog lunch at the Legion Hall, and Commander Hughes announced the winners of the float contest.            
Mercey Springs Elementary won the prize for Elementary schools, Los Banos Jr. High school garnered the award for Jr. High Schools, and Pacheco High School captured the High School trophy for best float.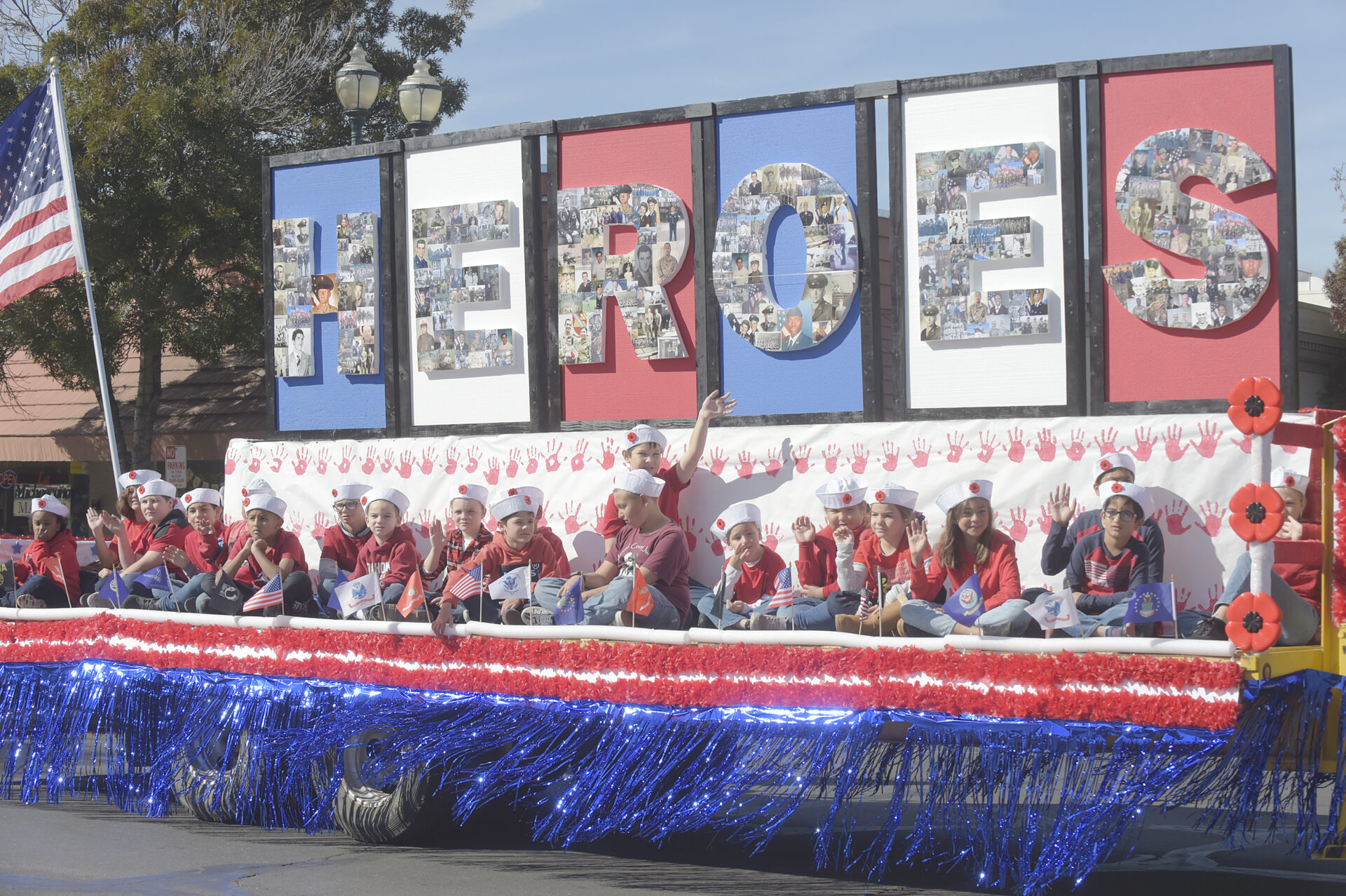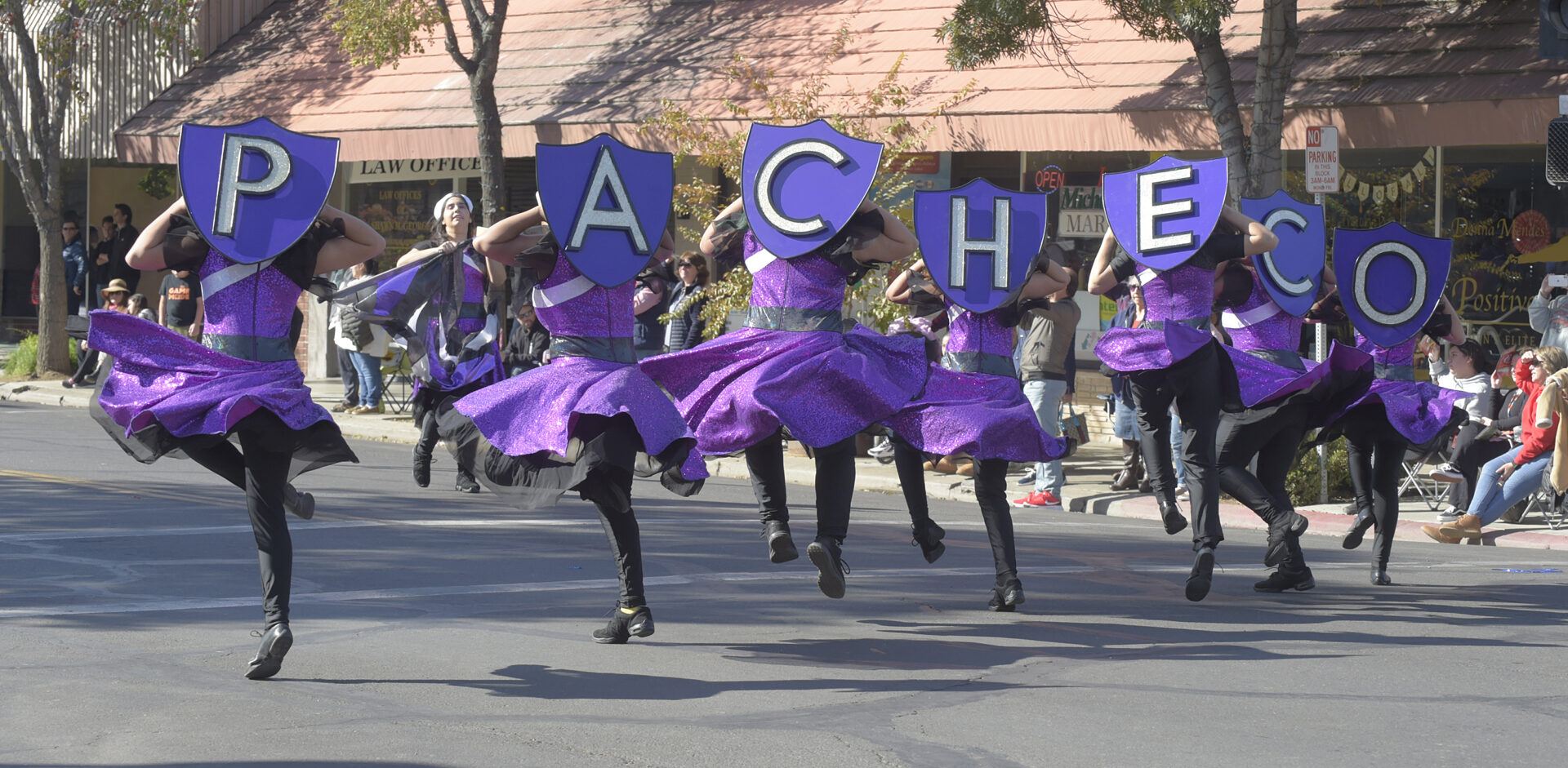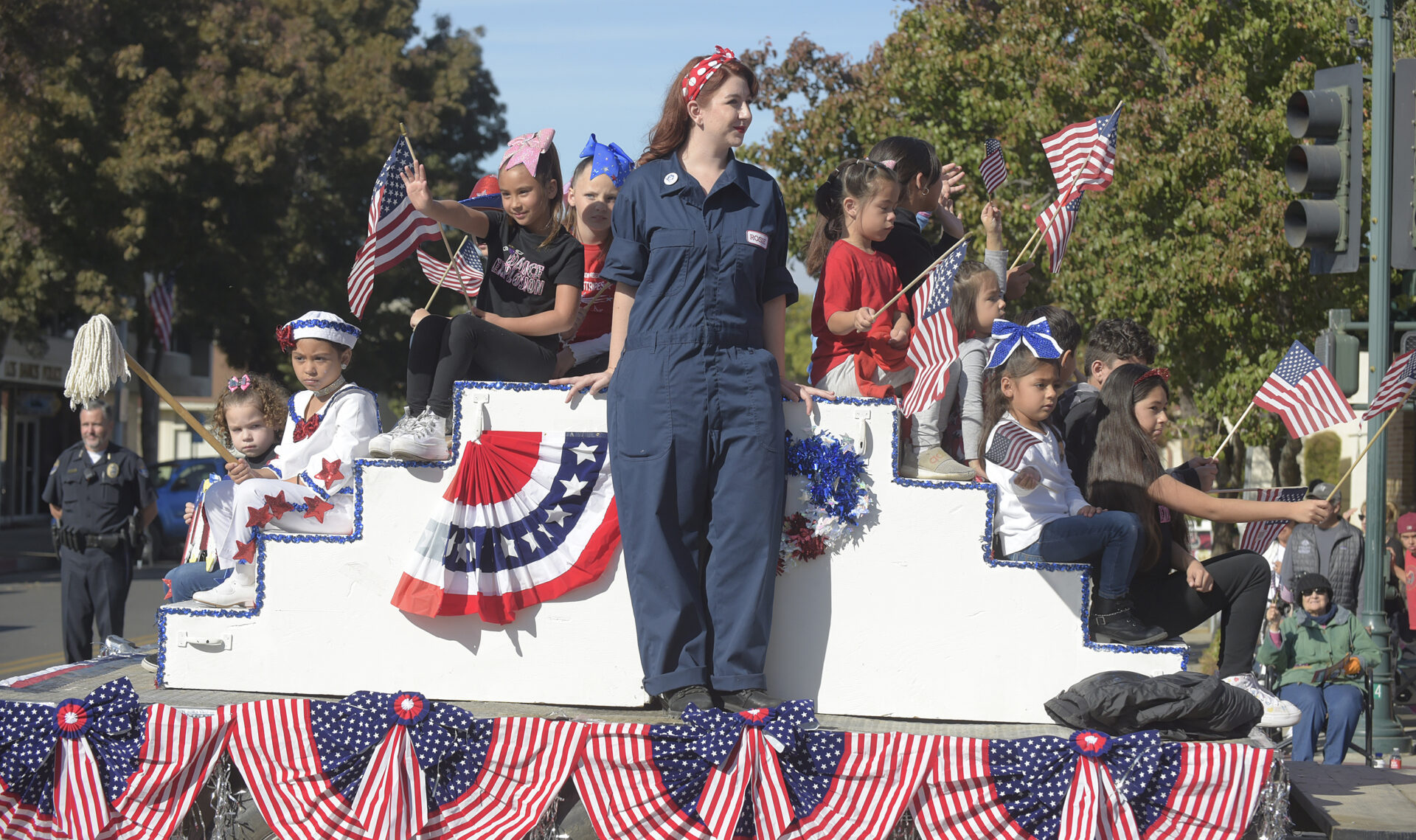 Entries in the 7th Annual Veterans Parade in downtown Los Banos on Saturday, Nov. 7, included clockwise from upper right photo, Charleston Elementary School students wave from their float; members of the Pacheco High School band color guard perform; members of Dance Explosion wave flag while riding on their float' Vietnam Army Veteran and retired Los Banos Police Officer, Clarence Simpson, right, veteran Richard Martin; the first-place winner for the elementary school division was Mercey Springs Elementary School; leading the parade are veterans, from left, Ray McCauley, Alan Cotta, and Michael Hughes; one of many Joe Davis entries from Eagle Field in Dos Palos; three members of the Los Banos City Council, Deborah Lewis, left, 27-year retired Marine veteran Refugio Llamas and Mayor pro tem and seven-year Army veteran Ken Lambert ride on the back of a vintage fire truck; a replica of a helicopter was part of the Salute to the Navy float entry for Grasslands Elementary School; and Marion Santos was named the Los Banos Veterans Parade Ambassador.
Gene Lieb/The Express