After a two-year hiatus, the American Legion Post 166 & the VFW Post 2487 will host the 2022 Los Banos Veterans Parade, which will be held on Nov. 5 at 11 a.m.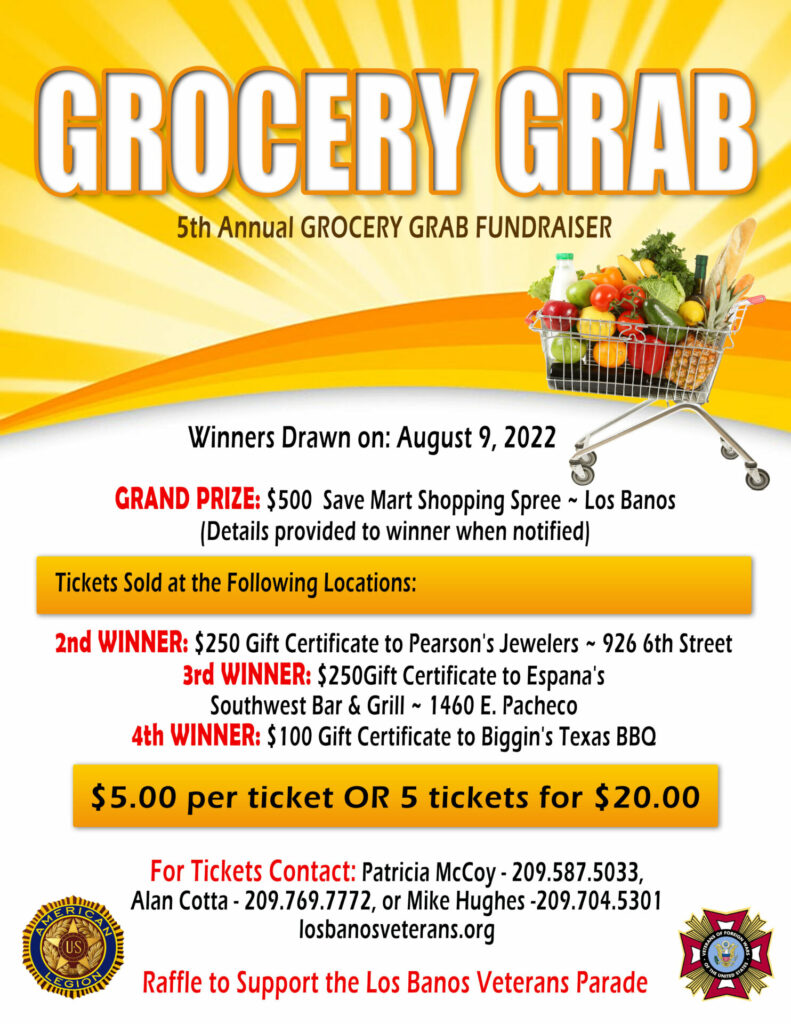 To cover the various expenses for this event, the Veterans Parade Committee is excited to announce tickets are now on sale for our 5th Annual Grocery Grab Fundraiser. The proceeds will be used to fund the costs of the parade.
The deadline to buy tickets is August 4. The cost is $5 per ticket or (the better value) $20 for a book of five tickets.
The Los Banos Veterans are so thankful to Los Banos businesses that have donated these prizes for this fundraiser to support veterans:
Grand Prize Winner: $500 for a Los Banos Save Mart shopping spree
2nd Winner: $250 Gift Certificate for Pearson's Jewelers
3rd Winner: $250 Gift Certificate for Espana's Southwest Bar and Grill
4th Winner: $100 Gift Certificate for Biggins Texas BBQ
To purchase tickets, contact:
Patricia McCoy, Parade Chairperson, by phone (209.587-5033) or email (lbveteransparade@gmail.com)
Alan Cotta, American Legion Commander, (209) 769-7772 or
Mike Hughes, VFW Commander, (209) 704-5301
Winners will be drawn on Aug. 9 and do not need to be present to win.