With the Fourth of July holiday coming in a few weeks, residents are justifiably worried about illegal fireworks and the possible fires that will undoubtedly go along with it.
The city of Firebaugh has already endured two significant fires on the San Joaquin River bottom. The second fire, occurring on May 31, led to anxious moments as homes along River Road on the Madera County side of the river were evacuated as a precaution. The fire also moved dangerously close to homes located in the city along River Lane in Fresno County.
Stellar work by the Firebaugh Fire Department, Madera County, and Fresno County, saved the structures.
As the city moves forward, residents and authorities are concerned not only with the illegal fireworks that are prevalent on July 4, but also homeless people who are living on the river bottom. The latter concern has been heightened by the arrest of a female for starting a river bottom fire in early May.
According to Firebaugh Police Chief Sal Raygosa, there are currently three people living on the Madera County side of the river.
"I have spoken to them personally," said Raygosa. "They assured me that they did not start the fire, and I believe them because the fire started north of their encampment."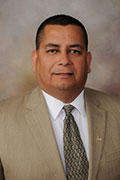 And as far as the homeless people go, dealing with them is very tough, said the chief.
"Everyone thinks it is an easy problem to solve, but it is not," Raygosa said. "They come from other towns and we try to get them out of town. We explain to them that we have no services for them and they need to go to the bigger cities where there are shelters and other services. Plus, there are a lot of mental issues and substance abuse issues, so we want to send them to where they can get help. It is tough for everyone around, because even if you can send them, another five to 10 will become homeless. We might be able to control the homeless problem, but we just can't solve it. But I think we are doing an awesome job of getting help for the homeless people."
In preparation for the Fourth of July, Raygosa and other city officials are going to meet with Madera County Supervisor David Rogers to come up with a plan to clean up the river bottom area.
"Supervisor Rogers, the Madera County Sheriff, and their county code enforcement department are going to meet with us to discuss the issues we have and how to move forward," Raygosa said.
In addition, Firebaugh authorities are planning stepped-up patrols in an effort to curtail illegal fireworks on July 4th.
"We will have extra patrols that night and our fire department will also be patrolling," Raygosa said. "The problem is you actually have to catch the people setting them off, and that is hard."
But those who are caught will face a fine of $1,000. The city of Dos Palos also has a fine of $1,000 for those caught setting off illegals.
Raygosa said that there will be a Destruction Derby at the Firebaugh Rodeo Grounds on July 2nd and a fireworks show will follow.
"We're hoping that parents will take the kids to this and get their fireworks fix by attending a professional and safe show," said Raygosa.