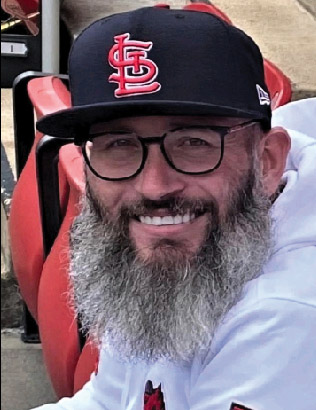 Joshua Daniel Kirkpatrick of Pulaski passed away on May 20, 2022 at his residence.
He was born in St. Peters, Missouri on February 21, 1989 and was 33 years old.
He was a loving husband, father, son, brother, and the best uncle.
He was the owner of Kirkpatrick Homes and Co-owner of Kitchen 218. Previous to this, he was a youth minister and a worship leader, with his mother, and was an avid St. Louis Cardinals fan.
He had a contagious smile and loved to dance and sing. Josh enjoyed playing jokes on everyone in the family and would often dress up and surprise everyone with a new costume.
He was full of life and loved his family more than anything in the world.
Visitation was on Thursday, May 26th , 2022 from 4:00 to 7:00pm in the chapel of Bennett-May & Pierce Funeral Home and Crematory.
Funeral Service took place at 11:00am on Friday, May 27th, 2022 in the Chapel of Bennett-May and Pierce Funeral Home and Crematory.
Burial followed in Maplewood Cemetery.
He was preceded in death by his, grandparents, Kenneth and Katherine Brantley, Claud and Oma Kirkpatrick, and Aunt Patricia Hon.
He was survived by, wife, Danielle Kirkpatrick of Pulaski, TN, daughter, Kelley-Jo Nicole Kirkpatrick of Pulaski, TN, son, James Tiberius Kirkpatrick of Pulaski, TN, parents, David and Kelley Kirkpatrick of Pulaski, TN, brother, Jeremy and Christina Kirkpatrick of Pulaski, TN, sister, Samantha and Alex Padilla of Pulaski, TN, nieces and nephews, Paula Padilla, Jackson Koehn, Addison Kirkpatrick, Liam Kirkpatrick, Ella Kirkpatrick, Elena Padilla, and Alice Padilla, aunts and Uncles, Pamela (Perry) Hubbert, Paul Ludwig, Jeaneal (Kenny) Vandeven, cousins, Mindi (Heath) Tucker, Frank (Tish) Vandeven, Michael Hubbert, Jonathan (Michelle) Bollinger, Shannon Ludwig, and Robert Hon.
He leaves behind many close friends and coworkers whom he considered family. Josh never met a stranger and he touched everyone he met.
Bennett-May & Pierce Funeral Home and Crematory was in charge of arrangements for Joshua Daniel Kirkpatrick.