The WAC champion Los Banos Tiger varsity football team (8-3 overall, 7-0 WAC) had their season end Friday, Nov 4. The Tigers came up short in the offensive explosion, 64-48, to the Buhach Colony Thunder (5-6 overall).
The Los Banos offense scored seven touchdowns, accounting for 48 points, but the Tiger defense had no answer for the explosive running game of the Thunder. Paced by Jaxson Percoats (346 yards, 4 TDs), Eric Thatcher (139 yards, 3 TDs), and Julian Ruiz (57 yards, 2 TDs); Buhach totaled 542 rushing yards and nine touchdowns, accounting for 64 points.
Herrera accounted for three Tiger touchdowns, one on the ground, and two scoring passes, one to Kayson Welch and Adam Aguilar.
Carreiro added a rushing touchdown, as did Isaiah Medina. Wyatt McBride completed a touchdown pass to Ayden Barcellos to complete the scoring for Los Banos.
Despite their first-round playoff loss, the Tigers completed an outstanding 2022 WAC conference football season, running the table en route to a 7-0 conference record.
Junior quarterback David Herrera paced the Tiger offense completing 86 of 142 passes for 1358 yards and 18 TDs. Herrera added 952 yards rushing and 14 TDs.
Mark Carreiro carried a heavy load on the ground, compiling 923 yards and nine touchdowns.
Jett Lindeman (86 tackles, five sacks) and Lorenzo Chavez (85 tackles. 2 sacks) anchored the Tiger defense. George Garcia added to the Los Banos defensive effort, intercepting four passes, including a 67-yard "pick six" touchdown. Daylan Mankel led the team in sacks with eight, and Cade Torres, Ray Fernandez, and Joel Alvarenga recorded three quarterback sacks.
The 2023 season looks bright for the Tigers as Los Banos will return eight starting players on defense and five starters on offense.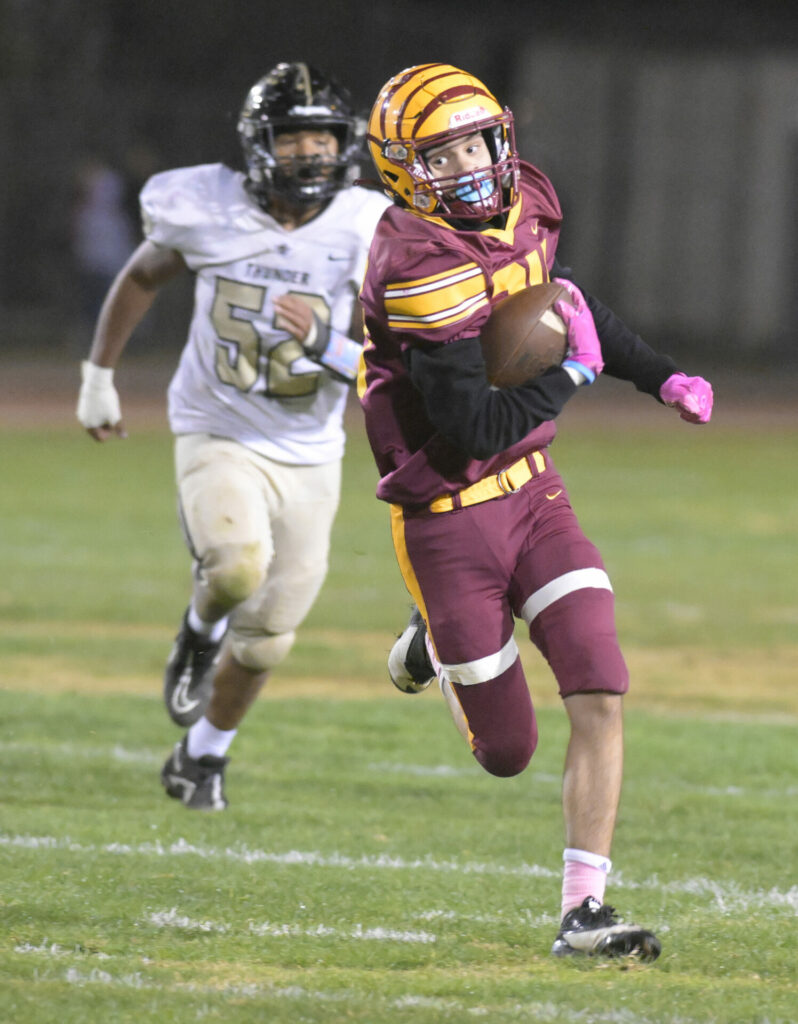 Photos by Gene Lieb/The Express