Before we get into the exciting details of the upcoming event, I think it would be helpful to learn more about the history of the Quilters Guild and quilts in general.
The Los Banos Art Council-Quilters was started in the early 1990s and offers annual memberships for only $25. The Quilters Guild meets the second Monday monthly at 7 p.m. There are currently 60 members.
The Guild founders were surprised that there was such an interest in Los Banos on quilting. Membership also includes access to the Mel Soares Art Studio located at 1125 5th St. every Wednesday from 9 to 2 where members can connect with other quilters while working on their quilts or other projects. It also includes the right to show at quilting shows.
Quilts can be expensive because of the labor required to make them. Quilts require pieces of fabric to be evenly cut and sewn together by hand or with a sewing machine to get the basic shape of a blanket. This will become the top layer. Then this finished piece must be sewn together with batting, backing, and binding to create a finished blanket.
The quilter can do everything by hand or use the services of having it professionally put together by two local quilters who have long-arm machines in their shops — Kimey's Stitches and JMG Fabrics and Quilting both located in downtown Los Banos..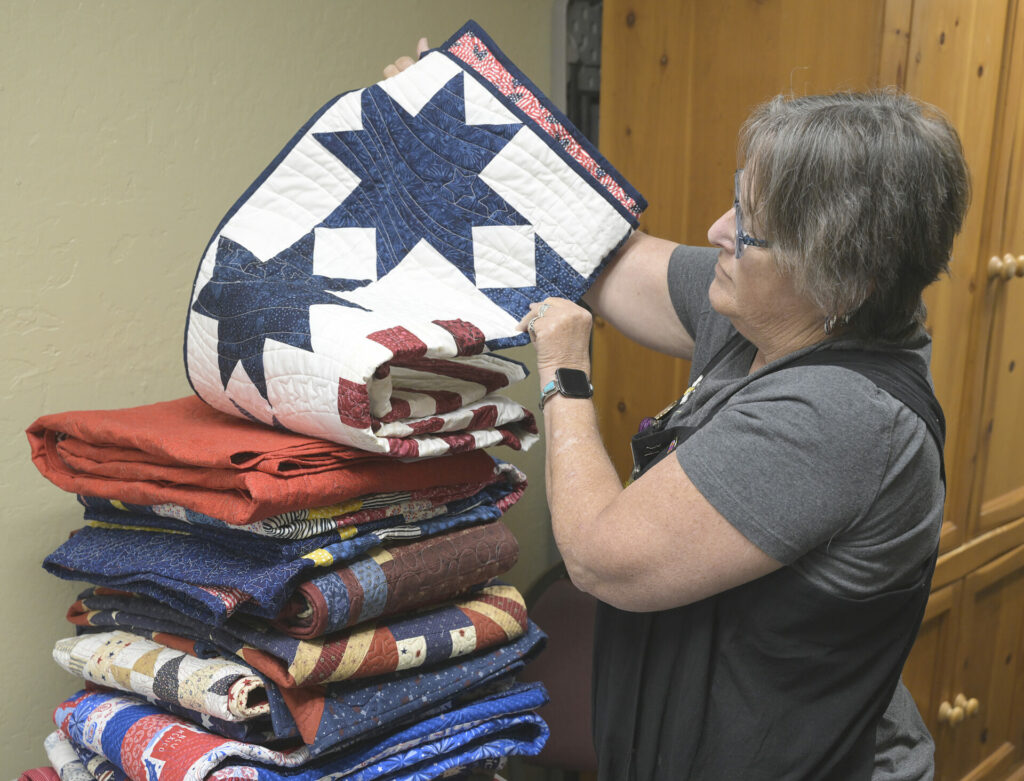 The Los Banos Arts Council Quilters will be showcasing the local talents and quilting handiwork of the Quilting Guild artists in September at the Ted Falasco Art Center located at 1105 5th St. The event will kick off with an outside ceremony for the hometown heroes presentation honoring 13 local veterans and first responders on Sept. 10 at 9 a.m.
Each honoree will receive a handmade quilt made by a Quilting Guild member along with a reading of their history of their service to our country and community. Families and friends can take pictures with the heroes after the presentation. The honorees' quilts will be on display in front of the Ted Falasco Arts Center. For more information on this portion of the event, please contact: Judy at (209) 827-8929.
Following the hometown heroes presentation, the doors will open for the 14th Annual Pumpkin Patch Quilt Show at 9:30 a.m. The admission is only $10 per person which is good for both days. The hours are Sept. 10 from 9:30 a.m. to 4 p.m. and Sept. 11 from 10 a.m. to 3 p.m. The show includes between 100-150 displayed quilts and 20 vendors which includes a sewing machine sales booth.
Fresh pumpkins will be available to purchase to start off your fall activities and displays. In addition, there will be a Quilter's Cafe. You can take a chance on themed raffle baskets along with a queen sized opportunity quilt made by Eva Jo Dunn and quilted by Kimey's Stitches.
Free Parking is available. All event proceeds will benefit the Los Banos Arts Council.
As an added bonus, there will be a bed turner demonstration which is a unique way of telling the stories and history of quilts in a homey and comfortable manner.
Quilts have a long history of not only being used for warmth, but are also considered a form of art. Quilts are a pictorial history of the lives and experiences as told from the quilter themselves throughout the ages.
In the past, a quilter would hold a bed turner social event at her home. More recently, bed turning demonstrations are showing up at quilt shows around the country. Mary Ann Bloom is the resident expert in this arena and has fascinating stories to tell about quilts that have been found at garage sales, second hand thrift shops or antique stores. It is ideal if the original quilter has a name and date on the quilt.
The goal of bed turning is to research the quilt and its history and return the heirloom and treasure to the family. Many quilts can be vintage (1930 to 1962) while others can be antiques and were crafted in the 1920s or before. An interesting side note is that quilts created during the depression used newspapers as the batting.
For anyone interested in getting additional information on the show or the guild, contact Kim at 831-901-8652 or Cathy at 209-403-5968.