To keep the Dos Palos School District's music program on the upswing, the administration has turned to a Bronco — and she's bringing along her "wingman."
The administration has announced that Selena Reyes and her husband, Luis Angel Gonzalez, will take the reins of the music department.
And the newlyweds bring with them not only youthful exuberance, but excellent educational background and fine "music chops."
Reyes graduated from Dos Palos High School in 2016. During her high school years, she was involved in leadership, track and field, color guard, and MeCHA. She was also a part of the cheer squad as the school mascot, "Bucky".
But no music?
"I unfortunately went to Dos Palos when the music program was at an all-time low," she said. "I was lucky to be one of the few to still be part of the middle school band program which helped me be on the path to enter high school."
But her passion for music, which she has had since she was a youngster, stayed strong and didn't stop her from pursuing music in college.
"I went into college with the only knowledge I had from middle school," Reyes said. "It was the drive and passion to get better and to provide exceptional instruction to my community that made me continue learning after high school. I wanted to make sure Dos Palos didn't go back to what I had to go through without music being available."
She attended Fresno City College before transferring to California State University Fresno where she joined her future husband as members of the Bulldog marching band. She received her bachelor's degree in music education. While at the university, she was also involved in the mariachi band, the top jazz orchestra, and the Fresno state wind orchestra and trumpet ensemble.
"I was also a part of the honorary band sorority, Tau Beta Sigma," she said. "This is an organization that was created to support and empower women in music."
A trumpeter, Reyes cites legendary jazz musicians Roy Hardgrove and Chet Baker as her musical influences.
Her task back in her hometown will be to work with the musicians at Bryant Middle School and also get the young students at Marks Elementary started.
"My goals for Bryant are to get the marching program back and get the students participating in parades and other competitions," said Reyes. "Every successful band program comes from the foundation, which is at Marks. The overall goal for the elementary school students is to inspire them to continue pursuing music as they grow."
Her husband, Luis Angel, will be taking over the high school program. He graduated from Clovis East High School in 2015, and was a member of the Timberwolves marching band all four years. Playing the clarinet, he was also involved in orchestra, jazz band, and the winter percussion ensemble. Besides the clarinet, he also plays the trumpet. Like his wife, he started his college education at Fresno City (where they first met) before moving on the Fresno State and receiving his bachelor's degree in music education.
This will be his first certificated teaching job, although he has taught a number of high school marching bands over the last few years as an instructor/coach.
His musical influences are world-renowned trumpet player Eric Miyashiro and the late pianist and composer, Sammy Nestico.
"My short-term goals for the DPHS music program are to establish a strong presence in the community and to branch out into different genres of music, such as jazz and hopefully Mariachi in the near future," said Gonzalez. "Music is an expressive outlet for students of any background. You could say that it's the one true universal language. I think it's important for students to realize this and find a way to express themselves through these means."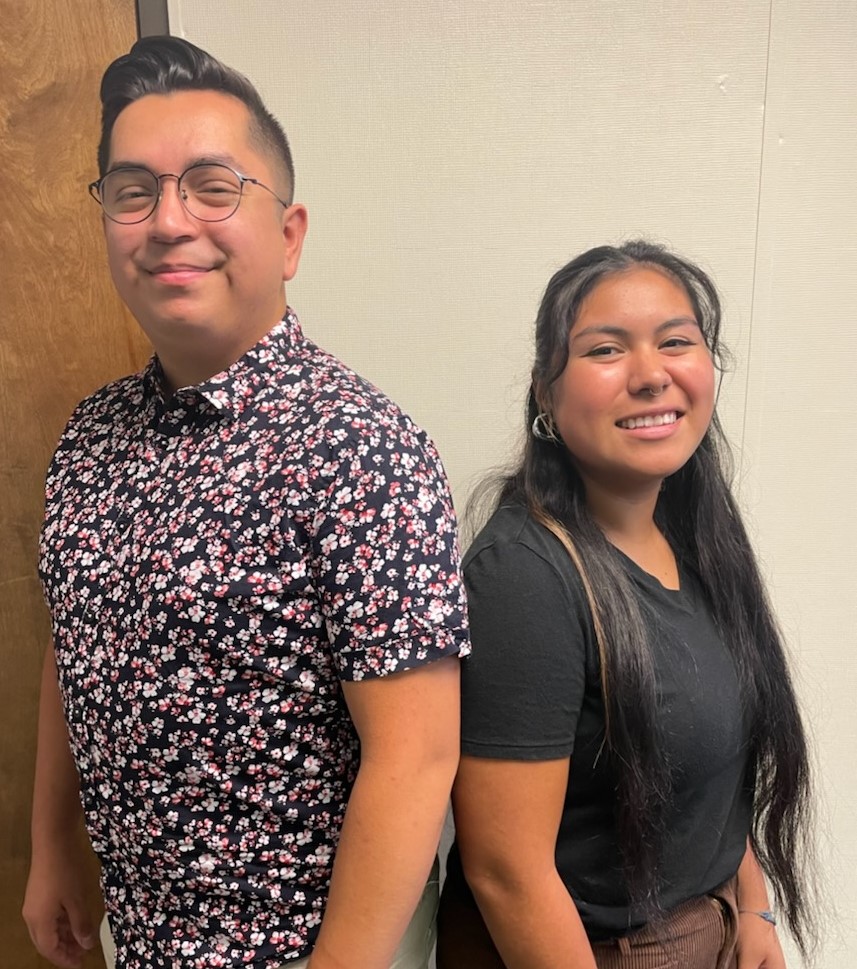 So the young couple, who were married on May 24, are brimming with excitement about what lies ahead for them.
"Selena and I have a very bright future in mind for the DPOL music program as a whole and are very excited to see what lies ahead," said Luis.
And the school district is equally jazzed.
"I am excited to welcome Ms. Reyes and Mr. Gonzalez back to Dos Palos and am looking forward to seeing the positive impact they have on our students and our band program," said school district Superintendent Megan Grijalva.
Besides their new teaching assignment, the couple will also be performing at the DCI World Championships in Indianapolis for the 50th anniversary of the Bluecoats Drum and Bugle Corp. The Bluecoats are an elite marching ensemble that stands apart from the Drum Corps International, which is the "major league" of marching bands. "We were both lucky enough to have marched there during our college years with this highly competitive activity. We are excited to bring all that we learned while we march there and continue to provide the best teaching to our students," said Selena.