The Dos Palos Senior football squad started out like a ball of fire in their North Division championship game against Firebaugh last Saturday.
The final result was a 32-8 victory over the Falcons which now sends the Broncos into the Tri County Football championship game this Saturday at Los Banos' Veterans Stadium. They will take on the Kingsburg Lions, the South Division champs. Game time will be at 5 p.m.
"We played a really good game," said Dos Palos head coach Jeremy O'Banion. "Firebaugh played us really tough. Their plan was to drive the ball right down the field and they did. But we made some adjustments and were able to hold them."
Dos Palos was first on the scoreboard in the opening quarter when Chaz Merrell carried the ball into the endzone on a fly sweep. Diego Garcia's extra point kick gave DP the early 8-0 lead. The Broncos were successful with an onside kick, recovering the ball at midfield. Dos Palos went right back to work, and Ace O'Banion scored the second touchdown on a 50-yard pass from quarterback Quienton Herrera.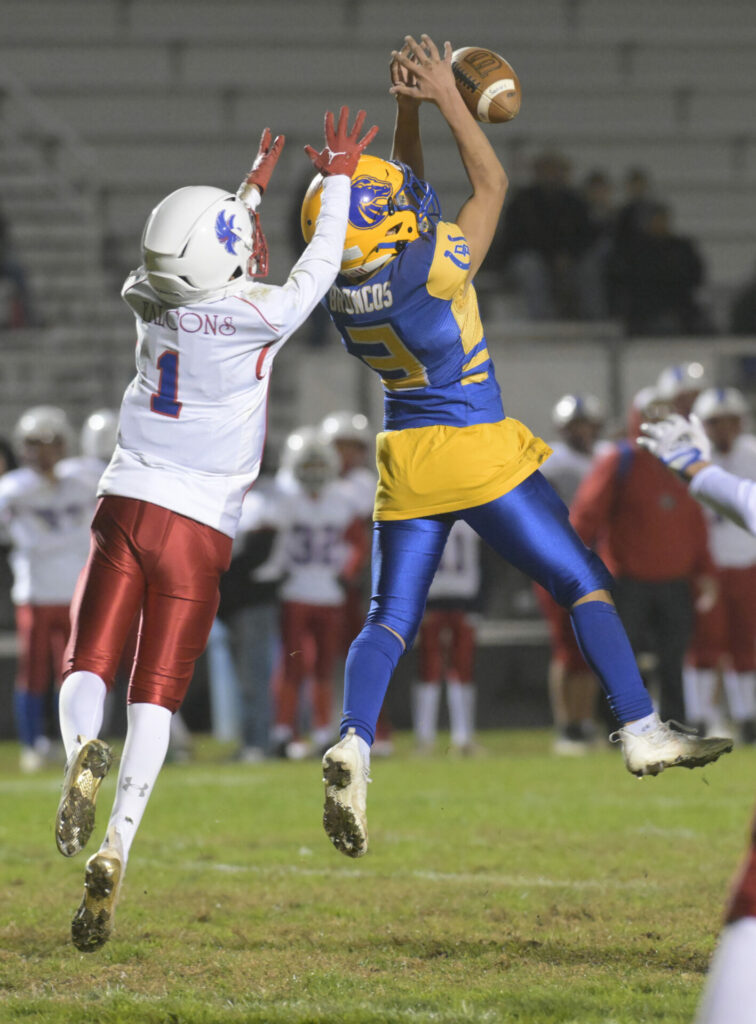 Again, Dos Palos tried an onside kick and was able to recover the ball in Firebaugh territory. With the Broncos threatening to score again, Firebaugh came up with a key interception by Aiden Lopez to stop the drive.
In the second quarter, the Falcons got on the scoreboard on a touchdown run by Nicholas Emery. Their extra point kick was good to close the gap to 16-8 with 7:30 left in the second quarter.
Dos Palos again went on a drive midway through the second quarter and running back John Snapp scored a touchdown as Dos Palos increased its lead to 24-8.
After a scoreless third period, the Broncos added to their lead on a touchdown pass to Gilbert Ramirez.
"We are finally getting the true 'team aspect' of the game," O'Banion explained of the team's late season improvement. "When the other team takes one of our guys away, another player steps up and makes plays."
He added that the interior line is doing a good job in gaining experience as the season progressed. Some of the linemen he cited were Orlando Esquivel, Jake Cortinas, Cayden Grijalva, Mathew Van Worth and Luke Gonvalves.
The Broncos, after avenging a regular season loss to Firebaugh, will now turn their attention to Kingsburg, which is coming into the championship contest with a 10-1 record. The Lions beat Dos Palos in Week 2, 26-0.