Editor's note: Celestine Lucille Paternain, known to her many friends as Sally, passed away earlier this year at the age of 101. This article, written in 2009 after an extensive interview with Sally, is appropriately reprinted now.
Most people in Los Banos know Sally Paternain as a dedicated volunteer who has helped many people, especially during the last quarter-century. Those who know Sally well understand how much she is also a person of resilience and determination.
Sally, who was born and raised in Los Banos, has experienced extraordinary challenges in her life–including a brain tumor, the sudden death of her husband in a freak accident, colon cancer, the spread of cancer to other parts of her body, and most recently a shattered femur, a dislocated right hip, and a fractured right hand.
She has met and overcome these challenges, and at age 88 still has the energy and enthusiasm of an 18-year-old.
BASQUE AND FRENCH
Sally is a native of Los Banos, born here in 1920. Her mother Jeanne was a resilient person herself. Jeanne Marie Bidart, a Basque woman, immigrated to the United States when she was a teenager. Traveling by train from New York to California, she landed in Los Banos and soon married John Betat, a Basque sheepherder.
Jeanne and John had three children: Beltran, Julian and Mary Ann. In 1918, Beltran, the oldest child at age 7, died from a severe outbreak of flu that swept through Los Banos. A week later, his father also died from the flu.
Jeanne, a widow supporting two children, had a tough time. Her wages as a cook in a Los Banos boarding house were small. "She used to tell me," Sally said, "that the only persons who helped her then were from the Salvation Army."
But Jeanne met a young Frenchman, Theodore Vigneau, who worked at Louis Bon's laundry on I St. near Seventh. She felt sorry for Theodore, because he was so skinny and worked so hard. She invited Theodore to eat from time to time at the boarding house. He loved her food and ate it with gusto.
Although Theodore spoke no Basque and Jeanne spoke no French and neither spoke English, they fell in love and married in 1919. In 1920 their child, whom they christened Celestine Lucille, was born, in a house near the laundry.
CLASSMATES AND ROLLER SKATES
As a child Celestine, who was called "Sally," remembers that times were tough. "For a playpen, my mom would put me in a large cardboard box on the front lawn," Sally said, "where I would wait in anticipation until my dad came home from work."
Sally attended Los Banos Elementary, not far from her home. Even as a youngster she was an independent-minded person. "On my first day of kindergarten," Sally said, "I apparently was not happy, because I slipped out and walked home. My mom marched me back to school, and the teacher kept a closer eye on me."
Her classmates were kids whose names are still notable today: Noreen Erreca (later Thiercof ), Helen Rooney (Lindemann/Paradiso), June Papaleo (Erreca), Marge Lewis (Balatti/Robinson), John Dambrosio, Ecton McSwain, Bill Freeman and Charles Smith.
One of the highlights for Sally and her friends as kids was the paving of I St., which had been a dirt road. "As soon as the work was finished," Sally said, "kids put on their roller skates and glided down the new pavement."
When Sally was nine, her laundry where her dad worked caught fire. "I can still vividly remember sitting on the ground and watching the building go up in flames." Theodore Vigneau was resilient and through his wife's contacts, found a job sheepherding, even though as a Frenchmen he knew nothing about sheep.
VALEDICTORIAN
Sally enjoyed her high school years, in the building located on the site of the current Westside Elementary School on Sixth St. She was a bright student, with excellent, strict teachers including Ms. Healy (Spanish), Ms. Sieghold (drama), and Mrs. Smith (math).
Sally was also involved in many school activities, including theater, the Girls Athletic Association, and the school newspaper. At her graduation, Sally Vigneau was the valedictorian of the class of 1938.
But it was during the Depression, and college, because of the expense, was not an option. Sally needed and wanted to work, so, as she said, "I practically begged Mr. Young at the J.C. Penny store on Sixth St. to hire me." Mr. Young was probably delighted to have the brightest graduate work for him and hired her for 35 cents an hour. "I thought it was great," Sally said, "that I had a job."
"After I started my job, several of my friends asked me to go to lunch with them at the Los Banos Drug Company (then located on Sixth and I Sts.). I was all set to order a tuna sandwich, when I saw on the menu that it cost 35 cents. 'That's a whole hour's wages,' I said, and I left to have lunch at home."
Later other employers offered Sally a job. "Mr. Toscano of the insurance agency wanted me to come to work for a dollar a day. When I said that wasn't enough, he increased his offer, because he liked me, to two dollars a day. But I found a job with Santiago Clothing on Sixth St. for $2.96 a day."
A few years later, in 1941, Frank Correia, the manager of the Dairymen's Company, was able to recruit Sally to work in his office for $60 a month. "I thought that was a great opportunity," Sally said. And so began a working relationship between Sally and the Dairymen's that would continue until 1983.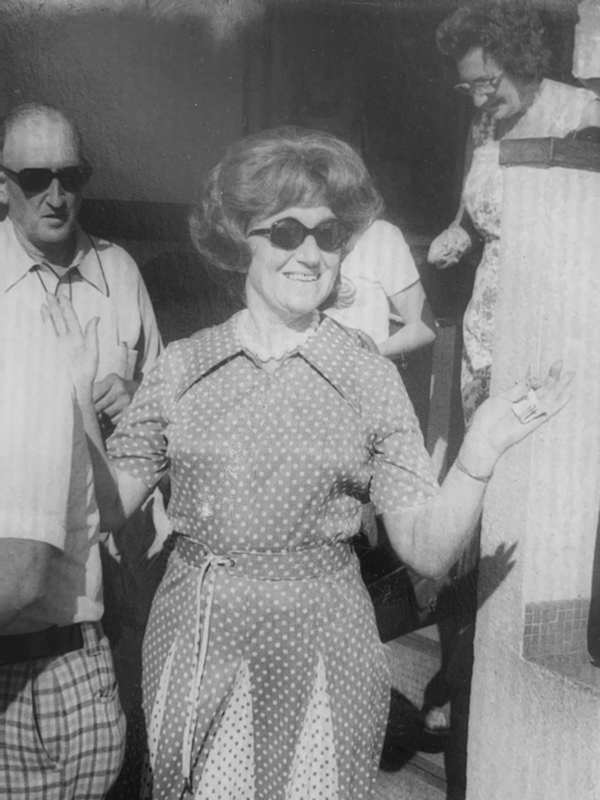 MARTIN IN HER LIFE
Around that same time Sally's mom was helping a young man seven years older than Sally named Martin Paternain, a Basque sheepherder who had been hospitalized with a serious illness. Sally's mother would visit Martin in the hospital and bring Sally along. The local doctor diagnosed him with tuberculosis and sent him to a Belmont sanitarium. Martin's condition was getting worse and worse until a doctor from San Francisco was called to examine Martin.
It didn't take the San Francisco doctor long to realize that Martin didn't have tuberculosis but an abscess on one of his lungs caused by pneumonia, which Martin had contracted after a long day of sheepherding in cold rain. The doctor operated and removed half of the patient's left lung, and Martin was soon healthy again. "That was one of many experiences in my life," Sally said, "where I learned that getting a second opinion was critical."
After getting back to work, Martin would come over to the Vigneau home to share in the family's meals cooked by Sally's mom. After several years of stopping by and visiting with both Jeanne and Sally, Martin proposed to Sally and married her in 1948.
The timing, as it turned out, couldn't have been worse. That was the year of severe drought in the Los Banos area. The lack of rain meant sparse pastures for sheep and expensive feed, when it was available at all. Sally and Martin ended up living in the Vigneau home, and Sally continued to work at Dairymen's, until 1952, when a daughter was born, Mary Celeste (who years later married Amador Zabalbeascoa).
Sally took a leave of absence to raise her daughter until Mary was old enough to go to school. Sally returned to the Dairymen's, at first part-time, and then full-time in 1960 and continued to work for them for the next 23 years. From 1968 to 1983 she served as office manager.
A TUMOR AND A CRASH
In 1972, Sally experienced her next big challenge when doctors found a tumor in her brain and treated it. She recovered from that ordeal, but eight years later her husband Martin was killed in freak accident. One very foggy day in 1980, Martin was in his truck at a stop sign on a rural road near Dos Palos, cautiously waiting to cross Highway 152.
Martin thought the road was clear, but he never anticipated in the dense fog that two young men in two trucks would be racing down 152. One of the young men crashed into Martin's truck, killing him. Sally was devastated.
Besides her intensive grieving, Sally was angry at the two "punks," as she still calls them. She was involved in a court case that lasted three years. By 1983 she was mentally and physically exhausted and still suffered from the effects of the tumor.
In that year she retired from the Dairymen's. Her daughter Mary Celeste during that time, as she has been all her life, was a great comfort and help to Sally.
But at age 63 Sally's life in many ways was just beginning. She began to increase her volunteer time with several different organizations, including the local hospital, the Milliken Museum, St. Joseph's Church, and a local chapter of AARP, for which she served as president in 1986. "I consider myself a sociable person who likes to help people," Sally said, "so getting active in volunteer work seemed natural to me."
FIGHTING CANCER
Another major challenge came in 1992 when Sally was diagnosed with colon cancer. She received treatments for the cancer, including radiation and chemotherapy. Several times the doctors who treated her gave the wrong diagnosis or inconsiderate service. She spoke up.
"Whenever I sensed that a doctor is not treating me the way I think he should," Sally said, "I made it a point to get a second opinion. And that has made the big difference in my recoveries."
After being in remission for several years, Sally felt ill. The doctors who treated her said it wasn't anything serious. Sally again asked for another opinion, this time from a doctor at Stanford. After examining her the doctor said, "Sally, your cancer has spread. We'll need to treat it aggressively," which he did, adding years to Sally's life.
Last year Sally had another harrowing experience. She fell in the back yard and shattered her femur and hip. She couldn't get up. She called for help. Nobody heard her. She called again, louder. Still no response. "I thought for sure I was going to die then. I prayed to the Lord that I was ready, if He was ready to take me."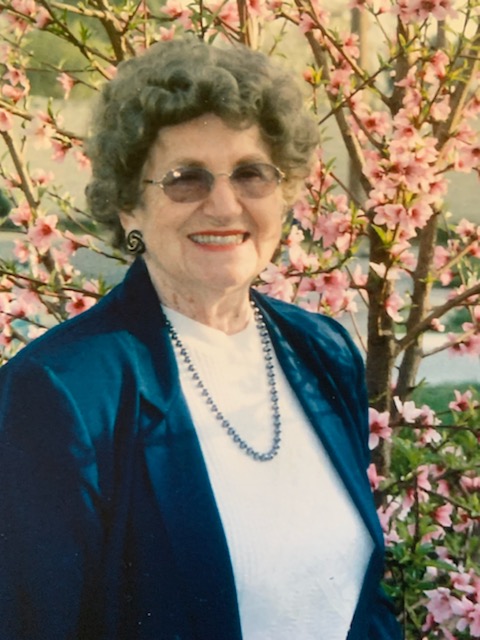 Just then two young boys in the neighboring house, Jacob and Tyler Gomes, who just happened to be in their back yard, heard Sally and ran to get their mother. "Those young boys saved my life," Sally said.
INDOMITABLE
Sally, as she has done from all her other medical problems, recovered from her injuries. Anyone who sees her today would think she is as healthy as an 88-year-old can be. She is back to being actively involved in her volunteer work.
How has she overcome all of the challenges in her life? "I have felt the loving embrace of the Lord," Sally said, "Jesus had held me in His arms so many times. I pray to him often, and he lifts me up."
All of Sally's troubles have given her empathy for others. "I've learned over the years how much people go through in their lives, and it makes it easier for me to reach out to them.
"I've also learned that when bad things happen to me, the best thing I can do is overlook them. And I try to have as much forgiveness in my heart as I can."
Sally seems to be indestructible. She continues to keep her energy level high. She's a terrific conversationalist, with more many more stories than can fit within the space of a newspaper article.
Sally is a good person to know, someone who lifts up the spirits of people around her. Los Banos has been blessed to have her for the past 88 years, and, given her resilience, will be blessed to have her for many years to come.