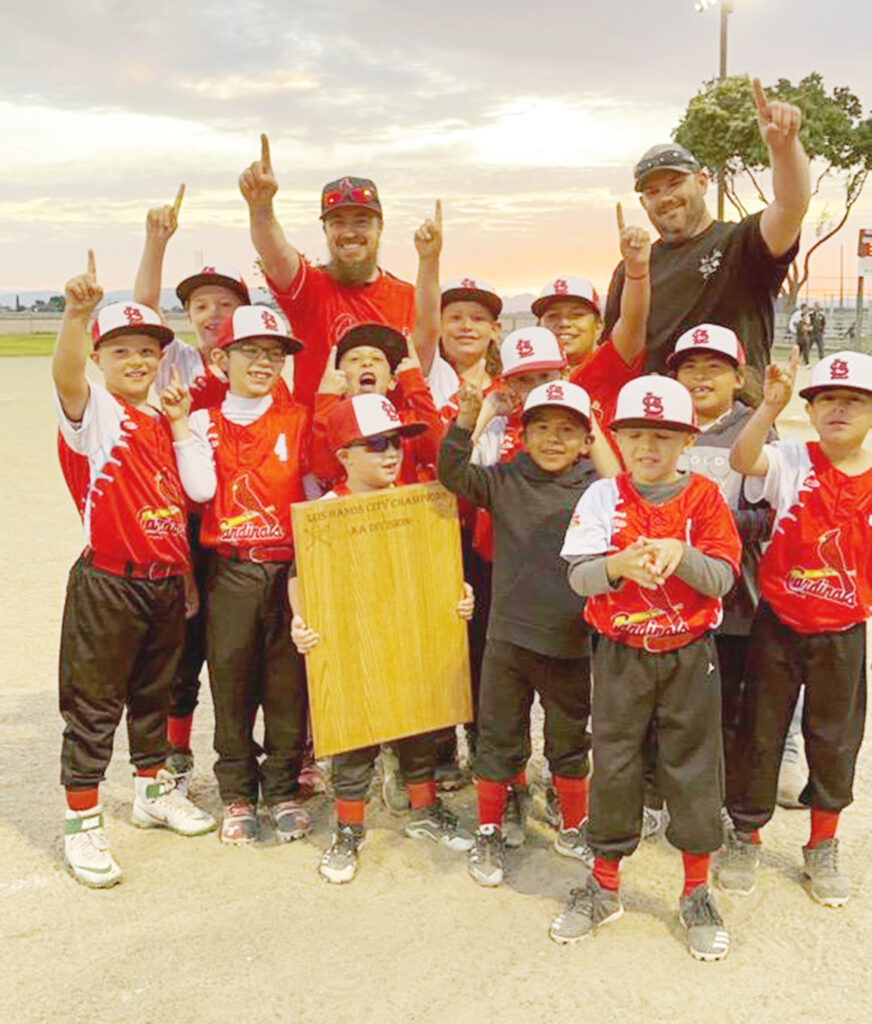 The Los Banos Little League 12-year-old-and-under season has come to a conclusion with the completion of the city tournament. Division champions were finalized in the Major League, AAA league and the AA leagues last week.
The Padres are the Major League champions with team members Damian Morales, Danny Romero, Steven Romero, Mitch Ruiz, Izik Serrano, Michael Valdez, Aiden Aleman, Tevin Chavez, Jacob, Nunez, Colton Kocher and Andrew Lopez.
The AAA division champions are the Giants with team members Carsen Correl, Jayden Dominguez, Sean Hogan, Liam Jasso, Noah Landrum, Enzo Lopez, Elijah Macias, Adrian Nunes, Jayden Nunes, Dylan Ramos and D.J. Wetherington.
The Cardinals are the champions of the AA division with team members Carter Bridgford, Mark Candelas, Grant Germino, Luke Germino, Carter Matthews, Elijah Nix, Marcus Nix, Aldo Olivares, Evan Perez, Jonathan Wiseman, Levi Zabalbeascoa, Jazlynn Zamora and Sal Zamora.
Next up for the Los Banos Little League is the District All-star Tournament in the three divisions. The league announced the three teams that would represent Los Banos in the double elimination tournament, which begins in coming weeks.
Competing for Los Banos in the 12-year-old all-star tournament will be Tevin Chavez, Brodie Copeland, Fernando Cornejo, Kaylee Fuentes, Issac Garza, Colton Kocher, Jaxon Mancebo, Vincent Rodriguez, Nathaniel Rogers, Danny Romero, Kellen Saucedo, Zayden Stiers and Reed Thiercof.
The 11-year-old all-stars are Chase Andrade, Tyson Bridgford, Adrian Cazares, Adrian De La Cruz, Liam Diedrich, Grayson Houtekamer, Eric Landeros, Andrew Lopez, Damien Morales, Jacob Nunez, Jacob Piers and Carlos Reynoso.
Representing Los Banos in the 10-year-old division of the all-star tournament will be Ross Betschart, Salvador Bravo, Liam Calderon. Nico Caropreso, Carson Correl, Jackson Diaz, Adrian Flores, Brayden Houtemaker, Noah Landrum, Travis Loebig, Lorenzo Perez, Aldo Vargas and Junior Wilson.